Pride celebrations are rapidly approaching, and we have just the guide for you to help you decide what Wholesale Pride Clothing And Accessories to wear to this upcoming Pride Day. Let's learn more about the history of Pride before we choose our Pride Clothing And Accessories. To commemorate Pride, learning what goes on behind the scenes is far more important than what you wear to the celebrations. Before we find the perfect pieces for you, let's learn more about the Pride movement.
What Is The History Of Pride?
The history of Pride dates back to the Stonewall Riots of 1969, which were a series of protests by members of the LGBTQ+ community in response to police raids at the Stonewall Inn, a popular gay bar in New York City. The riots marked a turning point in the fight for LGBTQ+ rights, and the following year, the first Pride march was held in New York City to commemorate the anniversary of the riots. Since then, Pride events have been held annually around the world.
Typically during the month of June, and have become a symbol of LGBTQ+ visibility, acceptance, and celebration. Today, Pride events continue to evolve, encompassing a wide range of activities and celebrations that reflect the diversity of the LGBTQ+ community.
Rave culture originated from a set of principles known as PLUR (Peace, Love, Unity, and Respect), which have been integral to its ethos. These principles emphasize the importance of creating a peaceful and loving atmosphere that fosters unity and mutual respect among all participants. Raves are open to everyone, regardless of their background, and the culture values inclusivity and acceptance above all else.
This creates a sense of community and belonging among attendees, which has helped make rave culture a global phenomenon. One of the best parts about going to raves is being able to express yourself through fashion and your individual style. The fashion culture that has blossomed over the years, particularly in the rave community, has given many people in the LGBTQ+ rave community the courage to be whoever they want to be despite social norms, stigmas, and outdated traditions.
The Stonewall Riots are widely recognized as the starting point for the modern LGBTQIA+ rights movement and the history of Pride. Prior to Stonewall, LGBTQIA+ individuals faced widespread discrimination and harassment, and police raids on gay bars and clubs were a common occurrence. However, the events of June 28, 1969, marked a turning point in the fight for LGBTQIA+ rights.
On that night, police raided the Stonewall Inn, a popular gathering spot for LGBTQIA+ individuals in New York City. Rather than dispersing, as they had in the past, patrons of the bar fought back against the police in a series of protests and demonstrations that lasted for several days. These events, known as the Stonewall Riots or Stonewall Uprising, sparked a global movement for LGBTQIA+ rights and helped pave the way for the first Pride march in New York City the following year.
This New York City bar served as a local safe haven for the LGBTQIA+ community. Many diverse and notable individuals, including Black transgender people and Gay men of colour, led the Stonewall protest. Marsha P. Johnson, a black transgender activist, is credited with organising the riot that resulted in what is now known as Pride. Rioting and six days of protest followed the raid. The brutal raids persisted and targeted the Bisexual and transgender community, sparking Gay activism and awareness across the United States.
Following the Stonewall Riots, organisers expanded on the activism by planning a march. The march, which began at the Stonewall Inn and ended in Central Park, commemorated the anniversary of a watershed moment in history. The march, later dubbed Christopher Street Liberation Day, was the first in a series of Pride parades. June is now designated as LGBTQIA+ Pride Month, more than 50 years later. Throughout the month, there are international celebrations and remembrances to honour the movement's legacy and ongoing fight.
These festivities are intended to eliminate prejudice, honour World's great diversity, and celebrate the equal dignity of all.
Celebrate Pride Month In Style With Colorful Wholesale Pride Clothing And Accessories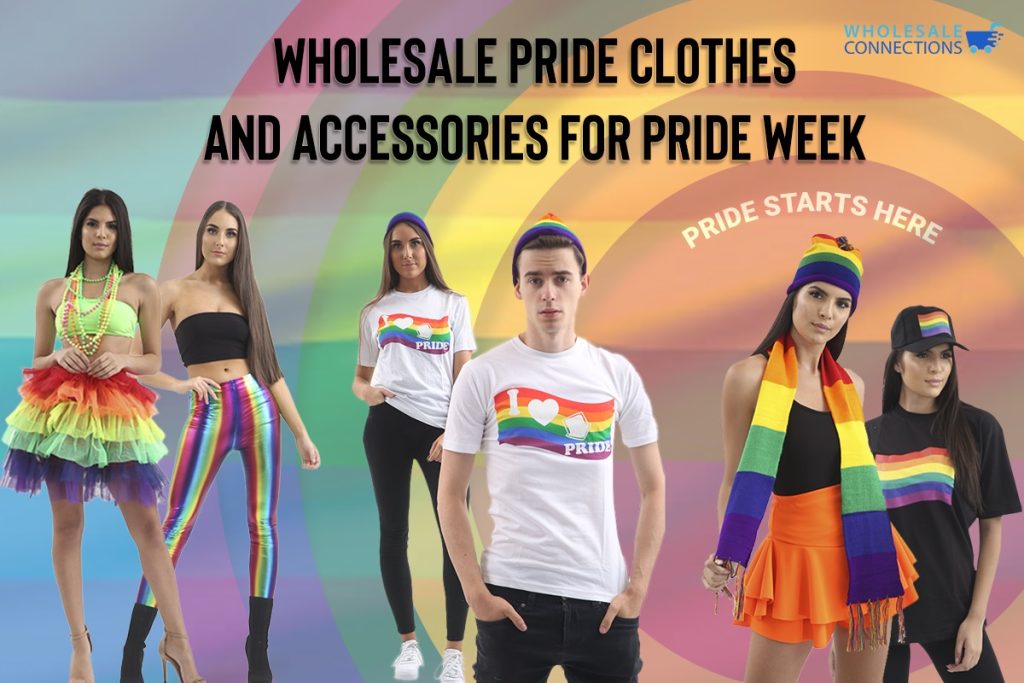 If you're looking to stock up on colourful and vibrant rainbow clothing and accessories for Pride Month, LGBT History Month, or Human Rights Day, consider purchasing Wholesale Pride Clothing And Accessories. By buying in bulk, you can ensure that you have everything you need to celebrate in style while also saving money. Whether you're planning a large-scale pride event or simply looking to outfit your store with rainbow-themed merchandise, wholesale pride clothing and accessories are a great choice. Check out our selection today to see what's available!
What To Wear To A Pride Parade?
What to wear to Pride is important, but what straight allies should always bring to LGBTQIA+ spaces is respect. Straight allies should actively demonstrate respect toward members of the LGBTQIA+ community, whether at Pride or in any other setting. While Pride celebrations are enjoyable, they are primarily communal commemorations held in honour and remembrance. Always wear and embody respect and appreciation for the LGBTQIA+ culture and community as an ally.
You remember being in awe of all the beautiful people proudly celebrating their identity at your first Pride event together. You were overjoyed and astounded. In addition, you were woefully unprepared for your first Pride event. You haven't dressed appropriately, and to make matters worse, you got sunburned from standing around in the summer sun and vowed to be prepared the next time we went to Pride!
Today, you have fully 'come out,' attended numerous Pride events around the world, and are now seasoned Pride veterans! You believe we should pass the torch and share our tips on how to prepare for the festivities.
Apply Sunscreen Lotion
It's essential to protect your skin during outdoor Pride events. Before packing your Pride accessories, check the weather forecast to ensure you're prepared for any conditions. Even on overcast or rainy days, it's important to apply sunscreen lotion, as harmful UV rays can penetrate through clouds and cause damage to your skin.
This is especially important if you burn easily, as spending extended periods outside without protection can lead to painful sunburn and long-term skin damage. So, remember to pack sunscreen lotion and apply it generously throughout the day to keep your skin protected and healthy.
Most Pride events take place during the summer, often in the scorching heat. Take care of yourself and maintain the health of your beautiful skin.
The Stunning Rainbow Sunglasses
It's time to get a little shady up here! Stylish sunglasses will help you live out your Audrey Hepburn fantasies. While these aren't the same as the ones Holly Golightly wore in 'Breakfast at Tiffany's,' you can't help but feel like a starlet when you walk around in a pair of sunglasses.
The ones we chose look fantastic! And the rainbow rims take away the sophisticated vibe that black sunglasses can give off, making you appear more fun and approachable!
Sunglasses, in our opinion, are a must. Especially if it's a sunny day. Plus, no one has ever looked bad in a pair of Pride sunglasses. So start packing!
Put On A Rainbow Bracelet
Similar to flags, you can personalise your bracelet to display the colours of the rainbow flag, trans flag, or bi flag. You can be super cute and give a bracelet to each of your friends to keep forever as a subtle way of displaying your identity!
And, like the backpack, it's a great way for people to notice your Pride participation and may inspire a young person to come to terms with their own sexuality.
We love wearing these on our wrists because they always add a pop of colour to whatever outfit we're wearing and they go with everything.
Wear The Rainbow Bow Tie With Pride
Who hasn't thought a bow tie was adorable? If you like to dress up, a rainbow bow tie is a nice way to stay on the theme while staying true to your fabulous roots.
When we put these on, we couldn't help but become selfie addicts. The appearance was everything! It's a particularly nice addition if you're attending a more formal event, such as a Pride ball. We know you'll catch everyone's attention – we certainly did when we wore them!
A three-piece black suit with this splash of colour? Oh, honey, the fashion icon will appear!
Wear Your Rainbow Sweatband
It can be used at the gym. Or simply use it to indulge in your 80s fantasies!
These rainbow sweatbands were a hit with us. Not only were they extremely comfortable and well-fitting, but they also look absolutely stunning!
What, after all, doesn't look good in rainbow colours?
We believe it is critical to be visible wherever we go, and a sweatband around the head (or wrist) is a great way to spread the Pride message. It's a simple but effective way to complete your Pride outfit!
Put On Your Pride Socks
Rainbow socks can be a fun and colourful addition to your Pride outfit. If you want to show your Pride from head to toe, consider adding a pair of rainbow socks to your ensemble. Not only are they great for marching in Pride parades, but they can also be worn all year round as a statement of support for the LGBTQIA+ community. With a variety of styles and designs available, you're sure to find a pair of Pride socks that match your personal taste and fashion sense. So, go ahead and put on your Pride socks to add a pop of colour to your outfit and show your support for LGBTQIA+ rights.
You don't have to go all-out rainbow either. It is entirely possible to find socks that aren't too garish. Such as a black pair with rainbow stripes running across the upper foot. As a result, you can adapt them to a more professional, day-to-day setting.
Put On A Pride Day Cap
Finish off your fantastic ensemble with a cutesy cap. There are so many cute caps to choose from, some with simple messages and others that are completely colourful and out of this world.
A cap can be worn with almost any outfit and is an easy way to show your Pride outside of the parade.
Prepare Your Rainbow Bag
Without a bag, you're not going to get very far. You'll need at least a backpack to transport all of your fabulous must-have accessories. So why not stick with the theme and get a groovy, rainbow one?
This bag we chose is cool, stylish, and very easy to carry. There are no more excuses for forgetting your essentials on the big day.
Furthermore, when you are running around the city or taking the train, the rainbow bag will let everyone know that you are proud to be LGBTQ or that you are a strong supporter. In any case, some shy kids might see it and be inspired!
Pride's Rainbow Flag
Of course… Isn't it obvious? Attending Pride without a flag is akin to attending a St. Patrick's Day parade without wearing green! It's time to paint the city in our vibrant colours and celebrate what makes us unique.
The Pride rainbow flag was created in 1978 to represent the entire community. Red (life), orange (healing), yellow (sun), green (serenity), turquoise (art), indigo (harmony), and violet each represent something different (spirit).
Remember that the LGBTQ community is represented by many flags, including the bi flag (pink, lavender, and blue), the trans flag (light blue, light pink, and white), and the asexual flag (black, grey, white, and purple). They are all equally important. They all highlight the beauty and diversity of our LGBTQ family. Find the flag with which you most identify and fly it with pride!
Whistle Loudly To Be Heard
As if we weren't already too loud… But, hey, Pride is more than just a celebration of our liberated queer identities. It's about a demonstration. It is all about being heard. It's about coming out of the shadows and drowning out the voices that continue to try to suppress our right to exist. So, yes, we will be audible. We're going to blow those whistles!
Paint Yourself With Pride Paints
If you don't want to put on a full face of makeup, a small amount of face paint may suffice. You can express your Pride with a tasteful and simple feature by using paint that comes in little tubs that you can swab across your chest or face in one quick motion.
You can draw a rainbow or a few proud words. You can even costume yourself as an animal or a drag queen.
You won't go far in Pride without seeing people covered in paint or glitter, so why not join them?
Makeup is like a paintbrush on a blank canvas. So, have some fun. Make use of all the colours. Be fantastic!
Tell Them Your Pronouns
A simple badge pinned to your shirt with your preferred pronouns (he/him she/her they/their/them) will not only allow trans and gender-nonconforming people to express their gender identity to the world but will also normalise the idea that cisgender people should not assume someone's gender based on their appearance.
You can also completely customise these badges to match your outfit and look super cute.
Wear A Rainbow Ring
A Pride ring is a great way to add a small detail to your overall look. It's also a lovely way to express your individuality outside of Pride. The one we chose is made of stainless steel and feels incredibly smooth and secure on our fingers.
We got ours not only to represent our pride but also to commemorate our relationship. Yes, as corny as that may sound, but come on, these adorable things scream "anniversary gift"!
Why not even use them to pop the question (should the mood strike you)? There's nothing cuter than getting down on one knee, pulling out this ring, and declaring your love!
But, of course, don't forget to get a diamond engagement ring later!
Use A Pride Day Umbrella
An umbrella is a super cute way to accessorise your look whether it's sunny or raining. Combine it with your rainbow poncho for maximum effect! Choose an umbrella that is extremely strong and can withstand strong winds. No amount of rain will keep us from attending Pride – and if you're considering going because of the forecasted rain, this umbrella is ideal.
It will also look super cool to carry around in the absence of rain. Have you ever seen Mariah Carey walk around in the sun with her security holding an umbrella over her head? Bring that same enthusiasm to Pride!
Bring A Raincoat
If you live in an area where it is likely to rain during Pride, bring a poncho with you. But that doesn't mean you have to walk around like a crazy old lady on her way back from the laundromat. There's no excuse for not decking yourself out in an adorable rainbow-coloured poncho to match the festivities.
Raincoats come in a comfortable, easy-to-pack bag. We always keep a few in our Pride bags, right next to our sunscreen.
Contact Your Friends With A Cool Rainbow Case On
Some of us are prone to dropping our phones. After our brand-new iPhone slipped from our grasp and smashed its screen on the pavement, we decided it was time to be responsible and buy phone covers. Isn't that correct?
But you can't just get one of those boring black leather cases; you have to get a rainbow case! After all, a phone case is an excellent way to display your Joy on any given day of the year, right?
Pride Makeover Time
Whether this is your first time in drag or you've progressed to the point where you can confidently submit your audition tape for the next season of 'Drag Race,' you should have fun and experiment with make-up!
You don't even have to go all out. Just a smudge of eyeliner. Or you could blush. Alternatively, however much you require to feel your oats.
Online Wholesale Store For Pride Clothing And Accessories
There are many wholesale stores for pride week clothing and accessories in the UK. Wholesale Connections is one such reliable Online Wholesale Store where you can get pride week clothing, dresses and accessories at economical prices. So what are you waiting for? Get this season's most trending and stylish Wholesale Pride Clothing And Accessories from Wholesale Connections.
Now if you are worried about buying in bulk or don't have the need for placing any bigger orders then no need to worry, we have got your back. There are many retailers and resellers where you can get all these products, one such Online Clothing And Accessories Store is The Fancy Dress.